5 Love Languages of Candle Lovers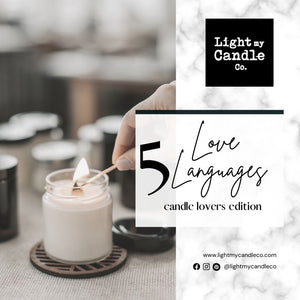 In Gary Chapman's book, "The Five Love Languages, How to Express Commitment to Your Mate," he categorizes the five ways romantic partners express and experience love. With Valentine's Day upon us, it seemed a good time to talk about his five love languages, and add one to the mix. 
So here they are, along with a few ideas for how you can incorporate them into your life.
 

Words of Affirmation

Everyone needs to feel valued. Hearing words such as, "I love you, you make me better, you're my rock, I am grateful for you" are easy ways to make anyone's day better.

Physical Touch

Not all people are huggers. But for many of us, hugs, hand-holding, pats on the shoulder or back and cuddling deepen our emotional connections with each other and help make some of life's daily hiccups easier to take.

 

Giving and Receiving Gifts 

For some people, a heartfelt gift is what makes them feel most loved — whether they're on the giving or receiving end. And it's not about the price tag. It's about what that gift means to that person at that time.

Quality Time

Intentional time spent with each other is time well spent — whether you're having a meaningful conversation, a walk outdoors, or just chilling at home. The key is to eliminate distractions. Our focused time is one of the most valuable things we have to offer each other.

 

 

Acts of Service

We all can use a hand now and again. When we go out of our way to make our partner's day or life better, even in small ways, it lets them know they are appreciated and adored. And who doesn't want to know that?
And my favorite love language, CANDLES!
Though they're not on Dr. Chapman''s official list, their warm and evocative scents can help make your home a happy place to be.
Happy Valentine's Day!
Xoxo,
Lauren