Scent Of The Month | May 2022 | Lilac Garden Scented Soy Candle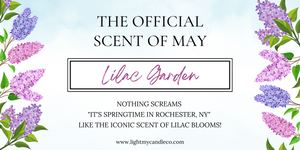 Our official "Scent Of The Month" for May 2022 is "Lilac Garden". Honestly, this could easily be our "Scent Of The Season!" It's our most popular Spring scented soy candle, and for good reason!
The Inspiration:
Nothing screams "It's Springtime in Rochester, NY" like the nostalgic scent of the lilac blooms in Highland Park. Our Lilac Garden scented soy candle is an ode to the iconic Lilac Festival which takes place annually, every Spring, in my hometown of Rochester, NY.
The Scent Notes
Clean, floral, fresh. This scent is an authentic floral blend of lilac flowers, lily of the valley, wild jasmine, and green leaves. If you have ever been to the Lilac Festival and walked through the hilly terrains filled with freshly bloomed lilac bushes, then this nostalgic scent will bring back some great Rochester, NY memories. It's the perfect scent to bring in the season and celebrate the reawakening of Spring in true Rochester fashion!
The Perfect Gift
Bring the serene beauty of a field of lilacs indoors with our Lilac Garden non-toxic soy wax candle, or opt for our Lilac Garden scented soy wax melts for a flameless alternative. Our Lilac Garden scented products are popular gift choices this time of year for those looking for a Mother's Day gift, housewarming gift, going away gift, or a nostalgic Rochester, NY gift.
The Lilac Festival
I usually participate in the Lilac Festival each year as a vendor, however, this year I have opted out to spend the day with my oldest daughter on her 10th birthday! While I must admit that I am bummed that I can't make it, this year I have learned that tomorrow isn't promised and cherishing these special moments with my daughter while she is young and impressionable should not be taken for granted!
For those of you who are also bummed to hear that you won't be able to find me at the Lilac Festival this year, have no fear! I am offering you and all of my blog visitors a limited time offer to save 20% off all of our Lilac Garden scented products while supplies last! You can use the following coupon code at checkout to snag our best selling Spring scented soy candle or soy wax melts online!
(This promotion is only available at my official website www.lightmycandleco.com)
Coupon Code:
LILACFEST
Before I sign off, I will leave you with a few of my favorite things to do at the Lilac Festival. Please leave a comment and tell me what are some of the things you love the most about the Lilac Festival!?
My Lilac Festival Fav's:
Walking through the hills of Highland Park and admiring the many varieties of lilacs (Did you know there are over 500 different varieties there!?)
Letting the kids burn off some energy in the kids zone
Art In The Park! I love strolling through the arts and crafts show and seeing all the creative products being made and sold (AKA shopping! But seriously, I love supporting my fellow local artisans and other small business owners who travel from out of town)
Live Music and Wine Tasting? Yes please!
Festival Food, and of course, we always have to grab a bag of the famous kettle corn (No matter how long the line is!)
What are your must do activities at the Lilac Festival? Drop a comment below!